State of things
The fire broke out in the underground area of ​​a historic building dating back to 1903, which is owned by UPJŠ Faculty of Natural Sciences. The fire gradually spread to the whole roof and through air conditioning and irregularly throughout the building. The historic roof of the building was completely destroyed, and about 25% of the building's interior was contaminated with combustion gases. In addition, the extinguishing water flooded all floors and destroyed a substantial portion of the inventory. The building remained unprotected from the weather before winter.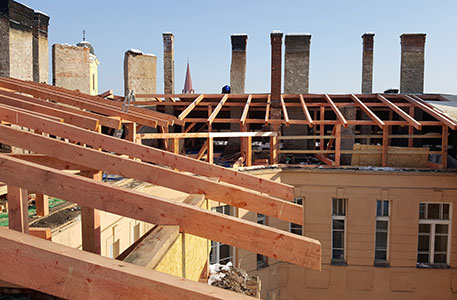 Remedial works and initial actions
In this case, it was most important to secure the statics of the building before the remediation work began, in particular a damaged ceiling of the top floor, so that remediation workers could safely enter the roof. In order to clean the debris and dismantle the destroyed truss, it was necessary to mount a building lift and slide for building debris and to bring heavy mechanization.
At the same time, remedial work was carried out in the interior (chemical decontamination and cleaning) and cleaning works and disposal of the truss. Once the roof has been cleaned and the debris removed, we started installing a temporary roofing of the building for which the project was developed and then consulted with the Local Heritage Institute.
As the building was soaked with extinguishing water, it was necessary to secure the building against moulds and consequent damage. In the course of the work, 40 condensing dryers and additional fans were installed around the building.